"It Felt A Lot Different. It Felt Good, Too."
September 12th, 2012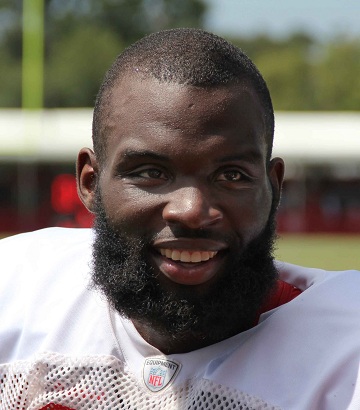 The guy with the Bucs' only touchdown grab this season is feeling pretty darn good. His head coach just told a national audience about his work ethic, and Sunday's win against Carolina revealed that success should come easier for him this season. Joe talked to Mike Williams about this stuff today.
JoeBucsFan.com: Speaking on SiriusXM NFL Radio this week, Coach Schiano raved about how you've been really busting your "hump" in practice and he's impressed? What's changed with how you're working now?
Mike Williams: Nothing's really changed. You can even ask the coaches from last year. That's one thing that I really try and stress for myself, to bust myself down in practice, work as hard as I can. That's how I feel. I've got to do that. It's just the first time these coaches have seen me do it, so I take it as a compliment. I take it as that's my job. I have to work as hard as I can in practice to actually keep a spot and help this team win.
Joe: I know you have played a lot of basketball in past offseasons. Did you do anything different to prepare for this season?
Williams: Same thing. I play a lot of basketball. I stay in shape and try to be in my best shape for the start of camp. I did the same thing, played basketball and came to camp.
Joe: Coach also mentioned how he could tell already how you didn't get the coverages rolled your way like last year and how excited he is for what you can do going forward? Did you feel a difference against Carolina with Vincent Jackson getting more attention?
Mike Williams: Oh, yeah. We got a lot of cover 4 coverages and he got the two-high coverages on his side a lot of the time in passing situations. So it felt a lot different. It felt good, too.