Intrigue Grows Over LeGarrette Blount's Status
September 12th, 2012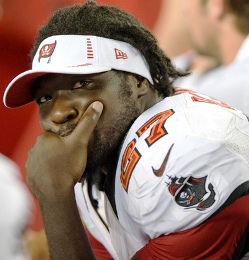 It's starting to get weird about the Bucs and LeGarrette Blount.
Blount was taken out of the game Sunday after being injured in some way — he was tended to while lying on the ground — and never played again, though later coach Greg Schiano said he could have played, but added he didn't know what was wrong with Blount (nevermind Schiano has direct access to team trainers).
To Joe's untrained eye, it appeared Blount may have had a cramp.
After the game while in the bowels of the stadium on Dale Mabry Highway, Joe witnessed Blount running off the field and into the tunnel to the locker room at a brisk pace; he was the very first player off the field. Just a few brief moments later, Joe witnessed Blount sprinting out of the Bucs locker room and exiting the stadium, well before media was granted access to the Bucs locker room.
To Joe's untrained eyes, Blount didn't seem injured but it was very curious to Joe why Blount didn't want to celebrate the upset win with his teammates on the field and why he was in such a mad rush to get out of the stadium. The fact he dodged media members makes Joe immediately wonder just what he is hiding?
Well, late this morning, Bucs rock star general manager Mark Dominik accounced via the Bucs official Twitter feed that Blount will have an MRI on his neck and back and a concussion has been ruled out by team officials.
@TBBuccaneers: Blount will get an MRI on his neck and his back. Dominik says player safety always comes first. … GM Mark Dominik says RB LeGarrette Blount will not be at practice today. Dominik says Blount definitely does NOT have a concussion.
Joe just smells something odd here. No, Joe's not looking for conspiracies under rocks or trying to connect dots that are not there, but adding everything up, it just seems weird.