Another Rough Day On The Ground
September 30th, 2012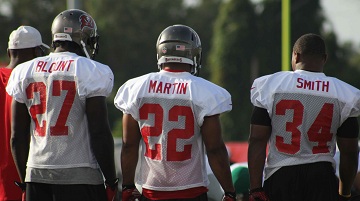 Somebody please tell Joe why the Bucs can't run the ball?
Maybe it's the choice of running back? Maybe it's the run calls? Maybe it's the predictability? Maybe the offensive line is way overrated?
Today was another game in which the Bucs couldn't do what they wanted to do on the ground. Sure, the Bucs avoided the "negative runs" coaches talk about. But there was no rhythm to the rushing attack, and very little threat from it as a result.
Buccanneers Radio Network analyst Dave Moore, the former Bucs tight end, noted that Doug Martin is getting tackled repeatedly by the first guy that hits him.
Doug Martin had eight carries for 33 yards. LeGarrette Blount had six carries for 17 yards and a touchdown.
And Mike Sullivan treated fans to the infamous Benn'd around again. Arrelious Benn needed a heck of a juke move and effort for five yards.
When the Bucs needed to move the chains with two minutes left in the fourth quarter and march for a clock-eating, game-icing touchdown drive, the running game wasn't there for them.
Unless Josh Freeman is going to start to put together complete football games, the Bucs desperately need to find an above average rushing attack.