"We're Not Really Cerebral Coaches"
August 9th, 2012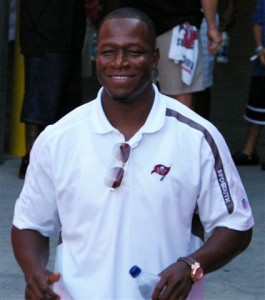 Joe's enjoying the New Schiano Order, but Joe holds a special place in his heart for former Bucs coaches and loves to track their movements.
The last Bucs head coach was a legendary quote/storyteller, from tales of the beatings by Michael, Barry and Harry Morris, to the rumor that his grandmother ran like a bulldog, to his famous underwear quote and many more, Raheem Morris was never boring.
So Joe was eager to hear Raheem's interview on 106.7 FM in Washington D.C. this week.
Among the highlights, Raheem shared that he's not a brainy coach, and how he gets guys to play and practice hard.
"We're not really cerebral coaches," Raheem said of himself and Skins special teams coach Danny Smith. "We like to be vocal. We like to talk to our guys. We like to be able to communicate across the field to those guys. And that's something that I know I've brought to the table a long time and it's been the driving force for the back end. We're the bus drivers. We gotta go out there everyday and drive the bus and increase the tempo and up it every single day to make everybody play harder on the football team."
And Raheem shared that Tanard Jackson is on the right path and has what it takes to return to top form.
"He's just got to get his head on right," Raheem said of Jackson. "And he's done a nice job of that in training camp and keeping it that way and showing up to work and doing all the things you need to do. Everything with this young man, the sky could be up for him. And that's all he can do, is go out there and go to work and keep playing like he's been playing. He's done a nice job here in Washington. And hopefully he can continue to do that stuff to get back on the field in order to become the player that he once was. I have no doubt in my mind that he can be that type of guy again."
Joe wishes Raheem well.