Tiquan Underwood's Big Impact
August 16th, 2012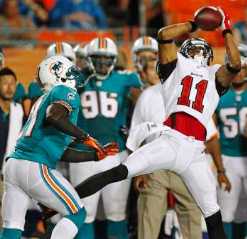 Virtually all the news about Bucs receivers in the offseason was based on two players: the addition of stud receiver Vincent Jackson and the jettison of Kellen Winslow, Jr., who didn't believe in toes on the line.
But easily forgotten is the addition of Kid 'n Play-styling Tiquan Underwood.
Largely seen as nearly a favor to a journeyman who played for Greg Schiano at Rutgers, Underwood is perhaps the surprise of the just-concluded training camp. Day in and day out, Underwood has made play after play.
It's one thing to make plays in practice and in underwear. Quite another to do the same in the heat of battled against guys with different colored jerseys, and Underwood has done just that. In the preseason opener at Miami last week, Underwood hauled in a 44-yard pass while sandwiched in traffic and should have been picked off if not for Underwood's solid play.
Joe's of the mind that Underwood, with the injury to Arrelious Benn, could very well be the Bucs No. 3 receiver.
It seems that Patrick Southern of CBSSports.com isn't as sold. He breaks down the battle for the 53-man roster position by position with the Bucs and he believes Underwood just makes the team.
The top end of the depth chart looks far better than it did in 2011, with free agent Jackson providing an anchor and a deep threat. If Underwood continues to impress as he did during training camp, he should be on the right side of the cut line.
Right side of the cut line? Unless Underwood falls totally flat on his face in the next two weeks or is injured, he's a lock for the roster and again, is making a serious run at the No. 3 position.
If Joe were Preston Parker or Sammie Stroughter, he'd be very concerned the way Underwood is playing.