Finally, A Run Game
August 16th, 2012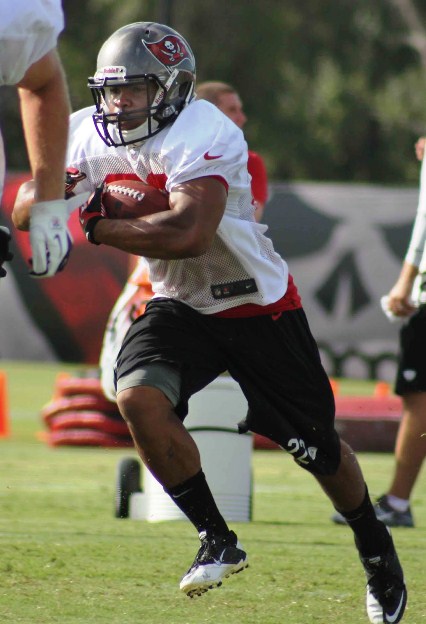 With less than a month to go before the start of the 2012 regular season, Joe is loathe to write another beatdown piece of shamed former Bucs offensive coordinator Greg Olson.
So Joe will try, yet he has to confess the will power is not there.
It seems eye-RAH! Kaufman of the Tampa Tribune caught up with bruising offensive guard Davin Joseph, who all but predicted opposing linebackers will still taste the sweat of LeGarrette Blount and Doug Martin with their breakfasts on Monday mornings.
"When you have backs like Martin and Blount, you have the talent in the backfield to have explosive plays," Joseph said after Wednesday's practice. "We have backs who can be home-run hitters.

"Having a good, solid running game gives you more options," Joseph said. "It gives you a versatile offense. A good run game, when you really get it rolling, makes a defense a little timid. It puts them on their heels. When you're able to dominate the line of scrimmage and get positive run after positive run, you wear teams down for four quarters. And with weather like this, it can make things very easy in the fourth quarter. We have the guys to be like that and we have the coach to push us in that direction to be a tough, physical team."
Kaufman goes on to remind readers that the Bucs — despite having a running back on the roster who ran for five yards a carry the previous season — had the fewest rush attempts of any team in the NFL last season.
It wasn't just that the ill-prepared Bucs defense found itself underwater in the first half so much the Bucs had to force the ball to Kellen Winslow throw the ball to catch up, it was that Olson had little to no desire to run the ball in the first place, which was part of the reason the Bucs were swimming up stream week after week.
Thankfully, with more than one talented running back, the Bucs seem to crave ramming the ball down a defense's throat on a regular basis.