Tampa-2 Nearly "Obsolete"
August 13th, 2012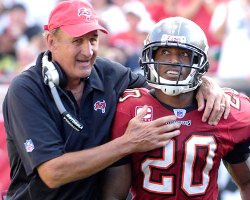 When Monte Kiffin ran the Bucs defense, what was termed a "Cover-2" by the way the safeties played, the Bucs defense was so suffocating for so long the type of defense became known as the "Tampa-2" because no team excelled at it for as long and as well as the Bucs.
However, writing an excerpt for Cheerios-loving Peter King in his must-read "Monday Morning Quarterback" on SI.com, NFL scribe Alex Marvez notes that information he has culled from former NFL general manager Bill Polian and from longtime Bucs safety Ronde Barber, the Tampa-2 is going the way of the Dodo bird thanks to NFL rules changes geared toward player safety.
The cover-two defense as we know it could be on the road to becoming obsolete. Polian got into a fascinating exchange with Tampa Bay free safety Ronde Barber about this topic. Barber is entering his 15th NFL season playing in the acclaimed "Tampa-2," a scheme predicated upon the strong safety disrupting receivers who are funneled toward the middle of the field by cornerbacks playing zone coverage on the outside. Many of the bone-jarring safety hits once allowed are now banned as the NFL has instituted rules to better protect pass catchers. That has Polian, whose Colts used that system from 2002 through 2011 after Tony Dungy was hired as head coach, questioning whether it can be used effectively in today's NFL. Said Barber: "Our theory was all these guys got to the ball and intimidation was a physical act. It was, 'Get guys to run through zones. We'll shoot our guns and separate them from the ball.' The rules will definitely affect it … I know we don't play cover-two now the way we used to."
This is sort of sad to Joe as it is an end of an era, but this is not surprising. Barber has hinted that under former defensive coordinator/head coach Raheem Morris that the Bucs were not playing a Tampa-2, but instead what Barber referred to as a "Tampa-2.2."
Clearly the Bucs were not playing a Tampa-2 during the heinous Jim Bates Experiment.
The NFL evolves. Quickly in fact. About the only defense that has lasted through the years — decades to be accurate — has been the 44 defense which was developed by Tom Landry when he was the defensive coordinator of the New York Giants in the 1950s.