Squeezing The "Butt Cheeks"
August 13th, 2012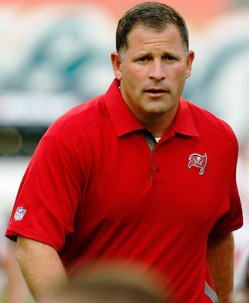 The New Schiano Order may be a cold slap in the face to some Bucs players (it sure was to Kellen Winslow), but the amount of detail new Bucs coach Greg Schiano puts into drills is so detailed, it is as if the Bucs are being taught the game of football from scratch.
This news of the New Schiano Order led Chris Brown, proprietor of the outstanding SmartFootball.com, to browse through his files and he came up with a gem of a transcription of Schiano.
Apparently, as a Rutgers coach, Schiano spoke at a coaching clinic about recovering fumbles, and his minute attention to detail was on full display when he explained what he tells his players who are in a scrum for a loose ball to expect when opponents get a little too handsy in a desperate attempt to get the loose pigskin.
"We also have our players perform the recover drill. In this drill, we stress three aspects: covering the points by surrounding the football; covering the ball in a fetal position so none of the brown part of the football shows; and, when they recover a fumble, we also ask our players to close their eyes, close their mouths, and squeeze their buttock cheeks.

"What happens at the bottom of the pile on a fumble? One thing that may occur is that the opponents may stick a finger in the eye of the man with the ball. What do you do when someone sticks a finger in your eye? In all likelihood, you may take one hand off the ball. The second thing the opponents do is fishhook you with a finger in your mouth, and then rip your mouth with that finger. Again, this action may lead you to take one hand off the ball.

"Another thing the opponents might do is to grab you in the testicular area. At this point, you may have no hands on the football, which is why we tell our players who recover a fumble to close their eyes and mouths, and to squeeze their butt cheeks."
Now Joe has noticed the Bucs running drills on recovering the football but Joe has not noticed — nor was Joe looking — to see what certain players are doing with their free hands in a pileup.
Joe can just imagine what goes on in a pileup for a loose ball in the NFL, but it's not something one really wants to see or dwell on.
But if curiosity has the best of you, in the link Joe provided above, Brown has graphic video of a game between Nebraska and Texas A&M of the acts of a desperate defender, trying to gain possession of a fumble.