Report: Okoye Cut And Will Re-Sign With Bears
August 31st, 2012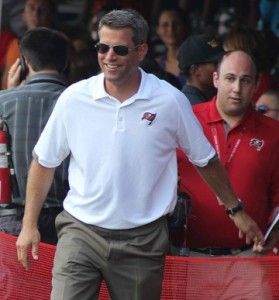 Apparently, Greg Schiano likes his defensive tackles healthy.
Brian Price got shipped out to Chicago after he proved to be physically unready (possibly mentally, too.) Now Amobi Okoye is a goner, as well.
Sean Jensen, of the Chicago Sun-Times, reports that Okoye was cut from the Bucs and his old team can't wait to get him back, which ironically probably doesn't bode well for Price's future with the Bears.
The defensive lineman was released by the Tampa Bay Buccaneers, and he's finalizing a deal to return to the Bears, according to a league source.

A former 10th overall pick, Okoye posted his second-best sack total last season as a Bears reserve, and he signed a one-year, $1.3 million contract with the Bucs during the offseason.
E.J. Wilson? Banged up Gary Gibson? Wallace Gilberry? Those appear to be the remaining depth options at defensive tackle behind Gerald McCoy and Roy Miller. Frank Okam is already gone.
Joe sincerely hopes the Bucs have someone else up their sleeve. Okoye was the second biggest offseason signing on defense, and clearly the need for D-line depth hasn't disappeared. Schiano himself has said numerous times that the dropoff from the first-team line to the second-teamers concerns him.
Perhaps one of the Redskins interior lineman that gutted the Bucs on Wednesday?