Now It's The Lettuce
August 9th, 2012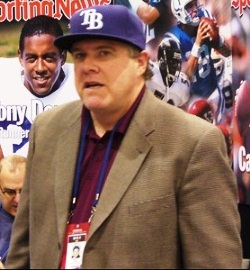 Two years ago, Joe famously brought word how popcorn-munching, coffee-slurping, fried-chicken-eating, oatmeal-loving, beer-chugging Peter King had a major let down when, after excitedly filling his breakfast bowl at One Buc Palace full of steaming oatmeal over a bed of raisins, that the oatmeal was salty!
King took the Bucs caterers to task for this sin.
Well, it seems a trivial piece of food kept the Bucs food staff away from getting the coveted A-grade from King when he visited One Buc Palace last week.
On The Menu
In the Bucs' cafeteria, the PR staff put Team SI (We're on the SI-EvoShield Training Camp Trip, with a party of five) in a side room so we could grill Josh Freeman. And grill a turkey burger. I had the grilled turkey burger on a wheat roll with raw onion, lettuce and tomato (B-plus), along with a mixed salad with balsamic (C; the lettuce was a tad on the other side of ripe), and a bottle of fruit punch G2. Grade: B. Freeman rather enjoyed his healthy meal, led by turkey, lettuce and tomato on whole-wheat bread, with red beans and rice.
Now before Bucs fans jump on their laptops to upbraid King, notice this is his "Postcard From Bucs Camp," and he has been grading camps annually for years on the strength of the food served.
For King, a B-grade isn't so bad, overripe lettuce or not.