Notes From Day 6 Of Training Camp
August 2nd, 2012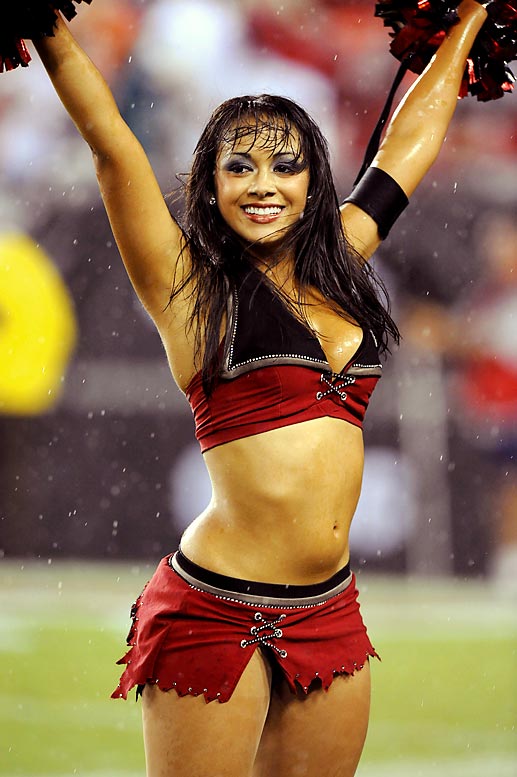 Joe was out at muggy Bucs training camp this morning (what, you expected Joe to blow off a training camp practice?), which was closed to the public. Here are some observations:
* There is no detail too small under the New Schiano Order. While running red zone walk-throughs, everyone on offense runs past the back line of the end zone and then circles around the pylons.
* During place-kicking drills, Schiano stands directly behind holders and watches handing of snaps and holds intently.
* The defensive backs were doing a drill where they dive and slap at ankles, in order to bring down a wide receiver who may have burned them.
* Joe was not sure what drew the ire of Greg Schiano, but Joe could hear him hollering from the far end of the field.
* Despite Michael Bennett being unable to participate in drills, it didn't stop Schiano from having Bennett and his mysterious illness suit up in full pads and go through what Schiano likes to call "mental reps" with his fellow defensive linemen.
* Receivers were working on coming back to poorly thrown balls along the sidelines. Joe wonders if this tactic is used by Brett Favre at the Mississippi high school team he coaches?
* Doug Martin running and pushed outside to left because of strong pressure up front by the defense.
* Josh Freeman was doing a solid job of stepping into the pocket to buy time.
* Anthony Gaitor had a solid breakup of a pass while guarding Mike Williams, which Williams even got his mitts on.
* Though working with the second string, defensive end Jayme Mitchell of Ole Miss raced in one play and nearly beheaded Dan Orlovsky before the backup quarterback just avoided Mitchell. Overall, Mitchell was getting heat on quarterbacks and playing disruptively.
* Overheard from another member of the Tampa Bay pen and mic club: "Look, Myron Lewis made a play!" He made a couple in fact.
* Bucs wide receivers were practicing stripping the ball away from defensive backs, simulating interceptions. The receivers tried to punch balls out from the would-be defensive backs.
* LeGarrette Blount  powers up through the one-hole for a score.
* George Johnson tips a Freeman pass which results in pickoff. Overall, Johnson consistently got heat on Freeman.
* Sammy Stroughter totally loses Myron Lewis in the corner for a touchdown. Later, Tiquan Underwood spun around Leonard Johnson in the back of the end zone to break free but Freeman didn't see him.