George Johnson Trying To Get Noticed
August 2nd, 2012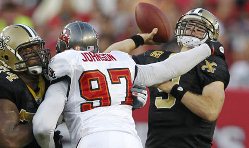 With near 100 names on the Bucs' training camp roster, players, other than returning starters or coveted high draft picks, can get lost in the shuffle. That's the predicament for defensive end George Johnson.
A third-year pro from the Land of Schiano, Johnson is aware that he has to stick out to make the team.
"There are always opportunities," Johnson said. "I have to prove myself every down. There's not one spot on this team that is guaranteed. You have to do something to impress the coaches."
Aside from his college connection to first-year Bucs coach Greg Schiano, Johnson may have fate on his side. The Bucs are dinged up on the defensive front. Michael Bennett is hobbled. Amobi Okoye is hobbled. E.J. Wilson is coming off an injury. This is not lost on Johnson, who admits he is still learning on the NFL level.
"I learned things like pushing through," Johnson said. "Like pushing through the heat, pushing through tired, push through being hurt. Learning that, it makes your job that much easier when you are not faced with those circumstances."
To make sure he gets noticed, Johnson all but admitted he has to make splash plays. He has the past couple of practices. Johnson has been getting heat on quarterback Josh Freeman and today, Johnson was able to get his paw on a Freeman pass, deflecting the pass which set up an interception.
"Anything to help the team," Johnson said. "We all have to do our job. If we don't get to the quarterback, we have to get our hands up, that is something we are really emphasizing if we don't get to the quarterback."