McCoy Enjoying Veteran Presence
August 8th, 2012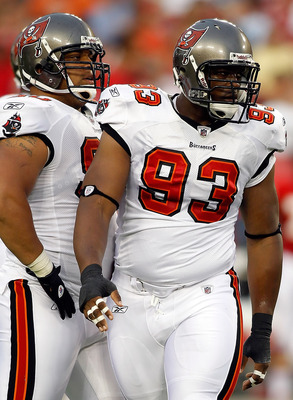 Since the Bucs installed Gerald McCoy as the "face of the franchise," McCoy hasn't had much of a veteran presence around him to lean on and learn from, unless you count noted bust Ryan Sims hanging around for part of 2010.
Joe was a big fan of former defensive line coach Keith Millard, but a coach isn't a teammate.
Things are different now with 30-year-old Gary Gibson in the house. The former Rutgers/Schiano DT battled his way to the NFL via NFL Europe and spent the past five seasons with Carolina and St. Louis.
Speaking on SiriusXM NFL Radio this week, McCoy went out of his way to mention Gibson's influence.
"He's real smart. He's helping me out because he's vet. He sees a lot coming before it happens. He's helping me recognize," McCoy said of Gibson.
This has been some offseason for McCoy. His back has loosened up. He's learned tackling technique. He's healthy. And he gets to hone his craft every day working against the human armoire, Carl Nicks. Per McCoy, Donald Penn routinely tells him, 'You're playing in the Pro Bowl every day.'
Everything is pointing to a great season for McCoy. Now he just has to deliver.