LeGarrette Blount More Scared Than Hurt
August 20th, 2012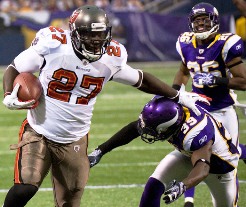 Bucs fans gasped at the sight of starting running back LeGarrette Blount writhing in pain Friday on the middle of the field at the stadium on Dale Mabry Highway, with Bucs medical staff working on his knee.
After the game, it was revealed that Blount "only" hurt his groin. He was walking about on the sidelines and the Bucs locker room with no wrap of any sort on his knee.
NowBucs fans that gasped at Blount getting hurt are breathing a major sigh of relief as Blount was back at practice and told Woody Cummings of the Tampa Tribune that he was more scared Friday night than hurt.
Blount said the hit that knocked him out of Friday's game in the second quarter put a scare into him because he took a similar hit a year ago during the regular season that caused more damage than the one he took Friday.

"It scared me a lot, really but I was fortunate enough not to get the same injury as last year," said Blount, who missed two games with a leg injury in 2011. "The groin was the only part that got hurt this time, so I feel good about it and I felt good today."
Greg Schiano told the Bucs pen and mic club after practice that Blount "was not limited" in practice.
Had Blount been lost for any period of time, it really would have put a dent into Schiano's plans to use a two-headed monster in a power running game. After Blount and rookie Doug Martin, the Bucs' top two backs are fellow rookies Michael Smith and little-used Mossis Madu.
Without Blount, the Bucs running backs are greener than the grass the players play on as far as NFL experience.