Halftime Is For Eating, Urinating
August 23rd, 2012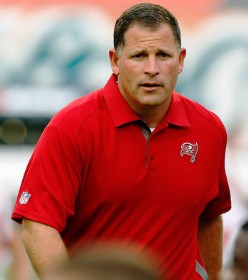 It isn't just fans packing the stands at the Stadium on Dale Mabry Highway who need to race to the restroom or load up on grub at halftime in order to get them through the second half.
It is that way for Bucs players as well.
For the second time in recent days, Bucs coach Greg Schiano spent time during his daily confab with reporters to shoot down the constant empty chatter from empty suits behind a microphone babbling about "halftime adjustments." In short, Schiano said, adjustments are made constantly during the game and halftime is often used for personal matters for players.
"I really think that halftime adjustments are overrated in a big, big way. I think halftime is to take care of your personal business, go to the men's room, get a drink and maybe something to eat because you maybe had something to eat three hours before kickoff or four hours before kickoff, now you have played an hour and a half later. You are looking at 5 1/2 hours before you have put some fuel in your system."
The way the Bucs played in the second half of games in 2010, it makes Joe wonder what was being served to players as fans went for another round of brews?