Enough With Donald Penn's Weight
August 21st, 2012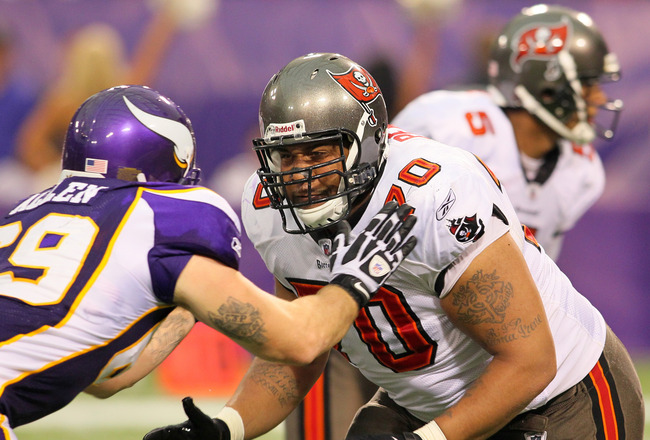 Joe's really had enough of his media comrades' obsession with Donald Penn's blubber.
There was rubber shirt mania last month, and yesterday Greg Schiano was hit with questions about Penn's weight. And everyone seems to be trying to figure out the impact of Penn's secret scale records.
This Weight Watchers chatter might interest Joe, except Penn was a fat guy when he was playing at a Pro Bowl level. He was a fat guy last year when his peers voted him as the 97th best player in the NFL, and he was a fat guy when rockstar general manager Mark Dominik and Team Glazer dropped a gargantuan contract on him. Penn's also a fat guy that has played in 76 consecutive games.
This is not a new position for Joe. Joe recalls Jeff Faine making fun of Penn's weight during a 2009 radio interview, dropping one-liners about how the white pants of the throwback uniforms were downright cruel to a man of Penn's girth.  Everyone knows that Penn's been battling the pounds for years.
Yeah, Penn played a few clunkers last season during the heinous 10-game losing streak. But it's as if fans and media are trying to hang his peformance on his belt size. Sure, extra fat likely doesn't help Penn, but there's plenty of evidence that it doesn't hurt him, either.
Penn was back at practice yesterday and he's as lean as Joe has ever seen him. Penn was a fixture through training camp doing all kinds of cardio work while rehabilitating his calf strain. Also, fans paying attention saw him riding a stationary bike at the Bucs' night practice earlier this month.
Joe's sure Penn will be just fine and is the least of the Bucs' worries — even if he piles on a pound a week from now until the end of the season.