Brad Johnson Talks Josh Freeman
August 21st, 2012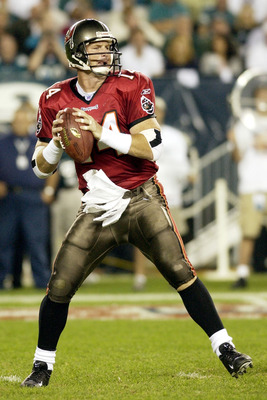 Yesterday, former Bucs quarterback Brad Joshson, who led the Bucs to a Super Bowl victory over the Raiders 10 years ago, dropped in to talk Josh Freeman and the Bucs with Todd Wright and Booger McFarland on WHFS-FM 98.7.
Johnson discussed how the Bucs' new offense should help Freeman and that Johnson believes Freeman should be on the cusp of some special things. Oh, yeah, and how Greg Olson was a Chucky-and-duck disciple.
Booger McFarland: The Bucs are in an offense where they are going to be run-oriented and then take shots downfield. How much pressure does that put on the quarterback than when you do throw the ball, you have to be accurate and on the point?

Brad Johnson: Hopefully the line gives you better coverage to take those shots and get you those one-on-one situations. You can imagine situations where you are not always in third-and-eight or third-and-ten. I remember when I was in Washington with Norv turner and we have Stephen Davis who was an unbelievable runner. It really helped me in the play-action game because I threw for over 4,000 yards. That was my best career year as far as numbers go and that is what you want from Josh. Take care of the ball and when you do take your shots, you have to hit them. [Freeman] has playmakers to make those plays. But the running game, that will get you into a third-and-short, third-and-medium type of a game where you don't have to force things on third-and-long. It is redundant when you talk about that over and over but the neat thing is for Josh this year is the hot [reads] will be a little different this year from the past.

McFarland: Josh in his fourth year, at one point in your career, the term "light goes on," at what point did things calm down where you could play at a high level?

Johnson: I was in a different situation in that I didn't play that much at Florida State. When I got to Minnesota, I was backing up Rich Gannon, Jim McMahon and Warren Moon. It took me to my fourth or fifth year until I was the actual starter. Thing about it, I was in the same system for seven years so I got to know the offense like the back of my hand, learning concepts from Brian Billick and later with Norv Turner so by the time I got to Tampa with Dungy and Gruden, I understood concepts pretty well. I do think the system that Josh was in was formulated from Gruden, the audibles and the formations and his adjustments for protections. He has a lot more playing time than I did so he is probably ahead of his time. I think Josh is ready to take that turn.
Well, some interesting comments there. High praise for Freeman, indeed. Joe believes Johnson hit the nail on the head in that for Freeman to make connections downfield on third-and-short, he needs protection. One reason Freeman struggled against Tennessee last week is that Freeman didn't often have time to sneeze much less throw a pass.
The offensive line for the Bucs simply must be able to not just open holes for LeGarrette Blount and Doug Martin to make this offense work, it also has to keep Freeman's jersey clean.
It all starts up front.
Oh, and it didn't take Johnson to tell Joe how Olson was like Chucky in that he'd rather go down throwing the ball then using the talent on hand to pound the football.