Do Your Job!
August 27th, 2012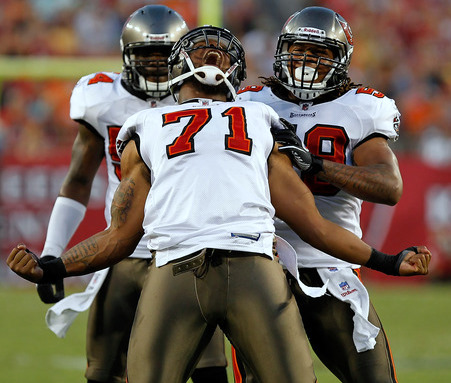 One of the great things about having the NFL Network from its inception is the tremendous content from NFL Films. It truly is artwork what the Sabols do.
(Out House customers: How does it feel now to know that your satanic cable outfit has you in shackles after Time Warner last week became the lone top 10 cable distributor refusing to allow sports fans to enjoy one of the most popular networks, holding football fans hostage while shoving channels down your throat like NY1, LOGO, countless shopping channels which is a gigantic waste of natural resources, and that nonsense yenta news channel that rebroadcasts tripe like a lost rabbit in Westchase 12 times a day?)
Last year, in its series, "A Football Life," a particular episode was devoted to Bill Belicheat. An NFL Films crew shadowed Belicheat for a full year and it was really cool insight. During one game, Belicheat implored his team over and over to "just do your job!"
Apparently, that cry has been heard by Bucs defenders after being echoed by one of Belicheat's disciples, Greg Schiano.
The Bucs defense played lights out against the Tom Bradys Friday. Better than any Bucs defense has played in some time in Joe's eyes. Yes, it was preseason, but that was against the Patriots' No. 1 offense.
What, you think Belicheat wanted Brady to get punished the way he did Friday?
What amazed Joe was that the Bucs shut down Brady and Company with several backup players filling critical holes.
Mason Foster was nursing a tender hamstring and didn't suit up. Gerald McCoy was the victim of a borderline dirty hit to the knee and logged just four plays. Adrian Clayborn had the rare but dreaded elbow/scrotum injury.
And still the Bucs defense smothered the Pats.
Why? Michael Bennett told Joe it was simply a matter of players just doing their jobs.
"Coaches are doing a great job of coaching us and guys are buying in every single week," Bennett said. "Guys are buying in more and more. The defense is working.
"Guys are out there doing their job. It's good to see guys doing exactly what they are coached to do. I think that is exactly what happened. We can't go with many highs and lows. I just want to be consistent each week. I try not to let the highs and lows of plays get to me."
Guys are doing what they are instructed to do. Imagine.
Joe knows one reason why Geno Hayes was benched last year and is no longer with the team is that he tended to do a little too much freelancing.
There is no such thing as freelancing in the New Schiano Order. And just look at the results.