Davin Joseph Talks Protection, Motivation & More
August 11th, 2012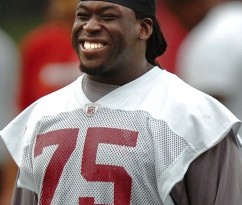 The right side of the Bucs' bookend Pro Bowl guards talked to Joe after the preseason opening victory in Miami last night.
JoeBucsFan.com: Watching from up high in the stadium, it looked like nobody was within two steps of Josh Freeman, how do you think the O-line pass blocked?
Davin Joseph: We did a good job up front protecting the quarterback. Remember ,of course we still got to improve. There's still a lot of stuff for us to work on technique-wise, recognizing different fronts so we can do that consistently. But so far so good.
Joe: That opening drive running four times after 1st-and-goal, was that music to your ears?
Joseph: Oh, yeah. Exactly. I like it like that. That confidence in the line and the tight ends and the backs to get it in. They put it on our backs and we got it done.
Joe: At 3rd-and-goal and 4th-and-goal, the wide receivers were out. What's with that all-power set?
Joseph: That's something we work on of course in practice. The offensive coordinator said run it; we ran it. It worked for us two times in the goal line situation. We've done it in the past. But now we're simplifying the entire plan and focusing on what we're good at. That's what made us so efficient this time.
Joe: A few years ago you told Joe how much you loved blocking for Cadillac Williams because he was an inspriational figure. Does it really matter to O-linemen who carries the ball?
Joseph: Oh, yeah. It always matters who has the ball. But you earn that respect and that love for a player through their performance and through practicing their hard work. We have really special backs this year in LeGarrette and Doug. They've really been working so hard and you want to see them do well. Just like we were in love with a guy like Cadillac, you know, it's easy to fall in love with LeGarrette because he's working so hard, along with Doug. You want to see them have success.