Climb Off The Ledge!
August 19th, 2012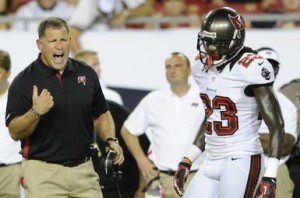 Joe senses a level of panic building among Bucs fans after the lackluster loss to the Titans in the second preseason game of the year.
The defense, fans bark, is a throwback to November 2011, a frightening thought indeed. But lost is the fact that the Bucs defense started the game with three, three-and-outs, which pleased Bucs coach Greg Schiano.
Joe had a fan Twitter him just today, thinking quarterback Josh Freeman will be no better than his 22-interception season last year because said fan thought Freeman telegraphed a couple of passes Friday night.
In short, as Bucs defensive tackle Gerald McCoy said after Friday's game, it's preseason.
"We can fix it, we can fix it," GMC said. "We just have to get it on tape and get on the grind. Not saying we haven't been, but this is preseason and this is where you make your mistakes and make your corrections so on Sept. 9 we have those things behind us."
Exactly the point. Rarely if ever is a team going to show its hand in a preseason game. Often, players are asked to work on very specific moves that may expose them.
There's no reason to panic over Friday's game. If this play continues into October, then perhaps.