Bucs Relocation Chatter Rises From The Dead
August 31st, 2012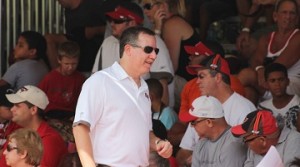 The prospect of a Bucs opening-day television blackout has Mike Florio so fired up he's again taken to his national stage to talk about the Bucs relocating. That's right, leaving the Tampa Bay market.
Florio, an NBC Sports personality and the curator of ProFootballTalk.com, says Team Glazer has exhausted every means necessary to drive attendance and must seriously consider relocation.
The failure to sell enough tickets at the stadium comes despite a string of efforts to sell all non-premium seats, from taking full advantage of the new league rule that allows teams to cut their "manifest" to 85 percent, to uncharacteristically spending million on free agents like Vincent Jackson, Carl Nicks, and Eric Wright, to hiring a new coach, to cutting the prices on parking and concessions for the home opener, to honoring Ronde Barber.

By the way, it's the first freaking game of the year.  And Cam Newton is coming to town.  Division rival.  The team that once claimed Chris Simms' spleen.

It was supposed to be a slam dunk for Week One.  And still the team is 9,000 tickets short.

Look, we like Tampa.  The city did a great job hosting the Super Bowl.  But regardless of the reason — local economy, apathy, whatever — if fans continue to fail to show up for the games, at some point the team needs to be moved to a place where the fans have the money, the time, and the inclination to attend games.
Joe must say that even though the 9,000 ticket figure was confirmed by the Bucs this afternoon, it still lacks very important perspective. For all anyone knows, the Bucs typically will sell 5,000 to 10,000 tickets in the six days leading up to the blackout deadline for opening day. And what ticket sales are typical in the final 72 hours before opening-day kickoff — after the blackout deadline — is unknown. That could bring thousands more sales.
Last year, the Bucs drew 51,000 and change for opening day against the Lions coming off a 10-6 season. There's no reason to think that this season's opening day attendance won't show a significant increase of 10 to 20 percent.
As of now, the Bucs are an organization on the rise operating in a poor Florida economy. They're not going anywhere.