Bad Knee? No problem!
August 21st, 2012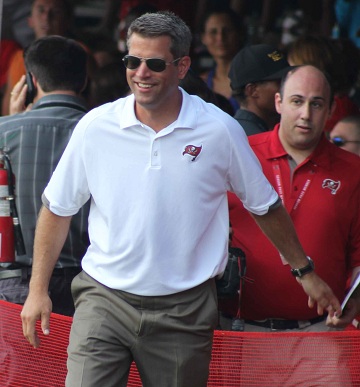 Last year rockstar general manager Mark Dominik explained a handful of times that the Bucs know knees, specifically everything it takes to manage and rehabilitate a knee injury.
Dominik pointed to huge successes with Cadillac Williams and Kellen Winslow, and the Bucs' confidence in their knee knowledge helped lead to the drafting of Da'Quan Bowers and his questionable knee.
The Dominik regime also brought back Arrelious Benn and Demar Dotson from ACL blowouts, plus they signed Amobi Okoye this offseason with his history of knee trouble.
And don't forget Dominik making the right call on Antonio Bryant, when the Bucs waved goodbye to him and the Bengals signed him to a massive free agent contract.
It was also those same foolish Bengals that cut Jordan Shipley and his reconstructed knee the other day, and then the Bucs were the only NFL team to want him on waivers.
No, Joe hasn't talked to Dominik about Shipley's knee, but Joe's quite sure the Bucs are confident that Shipley's knee is nothing they can't manage successfully.
Joe doesn't think the Bucs seek out guys with bad knees, but they're clearly not scared to take on a health concern when it has to do with that big joint in the middle of the leg.