Watching Quincy Black
July 23rd, 2012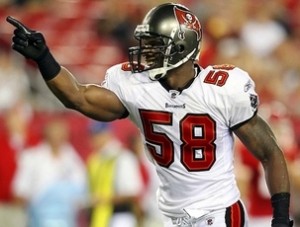 Yesterday Joe had the pleasure of being a guest on "The Rock Pile," hosted by all-around cool guy and fellow beer-swilling sports raconteur Rock Riley on WDAE-AM 620. There, Riley asked Joe what he would watch for when training camp opens up Friday.
Simply put, Joe will have his eyes on the linebackers.
Joe has been over this before, but the Bucs linebacker unit was the worst in the NFL last year. One reason was the play of Quincy Black, who has yet to live up to the massive new contract he received prior to last season.
(One could argue Black didn't live up to his original contract pay.)
It seems Woody Cummings of the Tampa Tribune is of the same mind. Writing about five players who need to flash this year, Cummings includes Black.
Black is a confounding figure. He looks as good as any player in the league in his uniform and pads but he has a tendency to look out of place once the ball is snapped. Last year, for example, he was among the league's leaders in missed tackles, with a missed-tackle percentage of 17.2 according to FootballOutsiders.com. As his 3.6-percent missed tackle mark of 2010 indicates, Black is not lacking in skill. He has the ability to be a game changer, but like so many of his teammates, he has to find a way to be more consistent. This camp will offer him that chance. If he takes advantage, he'll retain his starting job. If not, he could find himself on the bench.
Or, Black could find himself out of a job.
Look, new Bucs coach Greg Schiano has zero ties to Black. He didn't draft him and he didn't sign him to (thus far) an unwarranted contract upgrade.
Joe's of the belief if Black can't cut it, he won't have to just worry about starting, he may have to worry about what moving service to hire.