The Chances Of A Bounce-Back Season
July 15th, 2012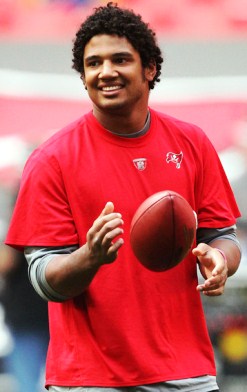 In the last season of the Chucky regime, the Bucs collapsed down the stretch with an old, worn out defense. Still, the Bucs were in the hunt for a playoff berth to the bitter end.
Then came Raheem Morris and the Bucs mired through a three-win season, only to bounce back and lose a playoff tiebreaker to the eventual Super Bowl-winning Packers in 2010.
In 2011, the Bucs may have put together one of the ugliest seasons in recent NFL campaigns, capped by a grotesque 10-game losing streak and the jettisoning of Morris.
So with a new coach and new players, highlighted by Vincent Jackson and Carl Nicks, could the Bucs win 10 games? It's not out of the question, writes Joe Fortenbaugh of the NationalFootballPost.com.
The interesting thing to take away from Tampa's three-year roller coaster ride is that we should have seen it coming. What happened to the Buccaneers wasn't an anomaly. It's actually a common trend that has taken place around the league more than you might expect.

Over the last ten years there have been 29 instances in which an NFL team went 7-9 or worse and then came back the following year to win at least ten games.

And in 26 of those instances, teams followed up that impressive 10-win campaign with a record of 9-7 or worse. What does that tell us? Since 2002, there's an 89.6% chance that a team who bounces back from a losing season to post ten or more wins the following fall is headed for a step in the wrong direction come year three.
Now can the Bucs make a run at the playoffs this season? Well, Joe will not go that far, though the NFC South is notorious for up-and-down seasons.
Joe does believe the Bucs will be better. How could they not? Joe just has a hunch that the Bucs new coaching staff knows the value of running the ball and won't waste talent by using a Chucky-and-duck, pass-first mentality.