Stopping The Regression
July 30th, 2012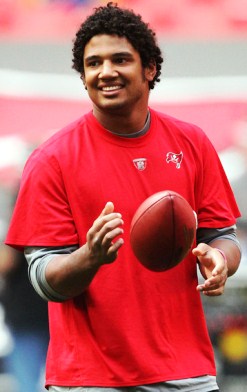 Perhaps no player in the NFL had a dropoff season quite like Josh Freeman.
Two years ago, Freeman came "this close" to leading the Bucs to the playoffs. He threw 25 touchdowns and 6 interceptions, an insane ratio.
Then came last season, which appeared to blow up in Freeman's face, He had 16 touchdowns but an ungodly 22 interceptions, a truly Trent Dilfer-like year.
The key for Freeman this season is to trim down the numbers of interceptions as he has weight this offseason, so writes Pete Prisco of CBSSports.com.
In studying his tapes from last season, a horrible defense coupled with limited outside speed at receiver led to Freeman's miscues. Many of his mistakes came when forced passes as he tried to rally his team from behind.

Quite simply, he was trying to do too much.

"Yeah, no question," Freeman said. "When things aren't going your team's way, you want to make a play to win a game. You have to let the plays come to you and play within the system."
Prisco goes on to suggest Freeman's terrible season is why former coach Raheem Morris was jettisoned.
Now Joe won't go that far. If one is to pinpoint a reason for Morris getting run it was the putrid defense, perhaps the worst in Bucs history, that resulted in a grotesque 10-game losing streak.
Who was the defensive coordinator? Well, that was Morris, too.
Just not having Kellen Winslow in Freeman's ear constantly screaming for the ball should help cut down at least five picks right there, Joe believes.