Sammie Stroughter Speaks
July 30th, 2012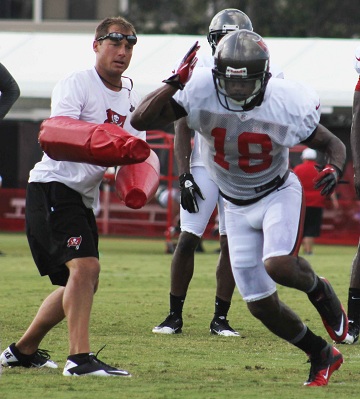 In Joe's eyes, fourth-year wide receiver Sammie Stroughter looks to be the lead returner in the Bucs' stable of return men. Joe talked to Stroughter a bit about special teams, Dezmon Brizcoe and some guy named Sabby.
JoeBucsFan.com: It looks like you're lining up as the No. 1 punt returner. Are you getting a feel that that's your role?
Sammie Strougther: It ain't no depth [chart]. You know, we're just trying to get everyone opportunities. We're trying to get ready to see different punters. We have a lot of good punters out here at camp. We want to get different feels as returners. So it's no depth right now. It probably is, but I'm not looking at it like that. We're just taking our opportunities as golden, and going after the punts with the proper procedure.
Joe: What do you enjoy more, punt return or kick return?
Stroughter: I'm very comfortable in both. But I just have to continue to get reps at it and continue to trust the different schemes. The coaching staff has a great way of preparing and putting guys in the right positions.
Joe: From an Xs and Os standpoint, how does the blocking on returns feel different this year?
Stroughter: Coach Ligs does a great job of scheming. He's going to find the weaknesses of a team and the strengths of a team and we're going to capitalize on that. The one thing about this coaching staff, they do a great job of preparing. Preparation is real big. And they make sure they do their homework also. You just have to continue to trust and do your best also. Make sure your when opportunity comes, you seize it.
Joe: How do you feel personally about Dezmon Briscoe getting cut?
Stroughter: It's hard, but it's also a business. It's a reality check. It lets people know that it's not guaranteed. Everybody is fighting for a job.
Joe: You came back from a serious injury late last season. How do you feel now?
Stroughter: I'm feeling good. I hold myself to a very high standard. So I just gotta continue to work and continue to grind. I have to make sure I'm preparing and not having silly MEs, mental errors, and different things like that. I have to make sure I know [the playbook], no second guessing, and just go out there and play football. Whatever happens I'll put it all out there.
Joe: How's your old friend and teammate Sabby Piscitelli? Do you stay in touch? What's he up to these days?
Stroughter: Of course we're in touch. Sabby's my big brother. He's working out really hard out there in Boca [Raton]. He's working out just waiting for that phone call. I wish him nothing but the best. I have the utmost confidence in him, and when he gets back out there he's going to ball out. I worked out with him a little this offseason. He's in really good shape. He looks like he's ready. He was my mentor to me when I got here. So I'm always going to look to him for advice, and vice versa.