No Hot Seat For Dominik?
July 25th, 2012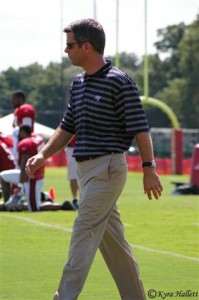 The inevitable and proverbial "hot seat" season is here, when fans and media try to figure out what coaches, executives and players have a season or less to prove themselves or be shown the door.
Is rockstar general manager Mark Dominik among those feeling the heat? Tampa Tribune Bucs beat writer Woody Cummings doesn't think so, per a Q & A session on TBO.com.
Q: With the hiring of head coach Greg Schiano, is this a make-or-break year for GM Mark Dominik, or has he bought himself a year or two to prove that he can build a competitive roster?

Peter Rubaek, Copenhagen, Denmark

A: I think Mark Dominik has bought himself a few years here. He was brought in to rebuild the Bucs primarily through the draft and he seems to have done a decent job. On paper at least this is a very talented team. A lot will depend, however, on how Josh Freeman, Gerald McCoy, Adrian Clayborn, LeGarrette Blount, Mike Williams, Doug Martin, Mark Barron and Mason Foster perform over the next year or two. Those are the cornerstones of his rebuilding project. If they work out and the team becomes respectable and competitive again he'll be fine. If they struggle and it's proven out that mistakes were made in drafting them, he could be in trouble. — Roy Cummings
Now Joe has to disagree with Cummings. If the Bucs churn out the 3-13 record Pat Kirwan and others seem to think is on tap for 2012, Joe would expect Dominik to be looking over his shoulder. Team Glazer clearly didn't have a problem jettisoning Bruce Allen, who had years left on his contract, as does Dominik.
That's just life in the NFL. Losing brings consequences.
Dominik's reign definitely has been polarizing, thanks to both incredible successes and colossal failures.
Joe suspects Dominik will be just fine, though. Joe expects the Bucs to make strides this season, And as Joe's written previously, Joe would only pin 15 percent of the blame on the front office for the Bucs' collapse under Raheem Morris.
Joe's confident Dominik will benefit greatly from the new coaching staff knowing how to use the Bucs' talented roster.