New Settlement Proposed In Grandma Vs. Talib
July 4th, 2012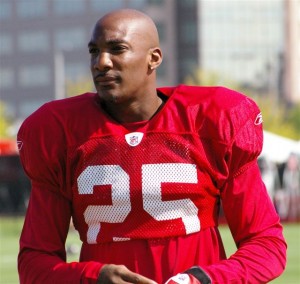 The strange tale of the Aqib Talib local fender bender in 2010, after which Talib allegedly told the other driver that he was going to put "a cap in" her, has not gone away.
Four months ago, grandma Betty Atwood, 54, sued Talib in Hillsborough County civil court (not criminal) for damages related to the car accident and alleged resulting pain and suffering.
Joe's recent review of the civil court hearings and events of the case reveals that motions to dismiss two of the three counts against Talib were denied, and after various subpoenas of Atwood's medical records, the court recorded two "notice of service of proposal settlement" entries last week, covering all three counts against Talib. So one can assume a check likely is forthcoming to put this matter to rest.
Another weight off Talib's shoulders should only help him as he works to stay out of trouble and on the positive path he's been on the last eight or nine months.
Joe will keep you posted on the case, and Joe promises to look deeper into the case file.