"I Admire Him," Barber Says Of Talib
July 26th, 2012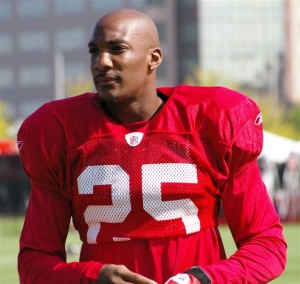 There's having a guy's back, and then there's talking about admiring someone.
Moving to the latter is a big leap of love, and Ronde Barber went there today when talking to reporters about Aqib Talib. The Bucs icon has been impressed by the man that has depressed so many Bucs fans over the years.
"One thing about Aqib's offseason this year, and you can ask anyone in this building, he's been here from February on. I think he's really committed," Barber said. "He hasn't changed, but he's committed to changing that perception about himself. And I admire him for that to be honest with you. He's dealt with a lot in his four years or five years with us. Those can't be issues for him anymore. We have to talk about what kind of football player he is and let all the other stuff die away as it should be because he's incredibly talented.  And his talent should speak for itself. We shouldn't be talking about everything else."
Joe sincerely hopes Talib has turned a page. The guy's got every  incentive in the world to change himself. A fat fresh contract awaits him in 2013, if he can stay healthy and out of trouble.