Don't Pigeonhole Michael Smith
July 21st, 2012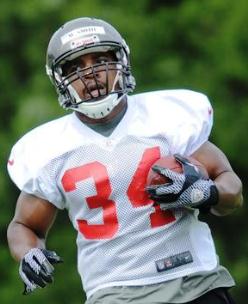 With a first round draft pick of a running back joining the roster with a proven veteran of a running back, it's easy to see why Bucs fans would want to pit Doug Martin against LeGarrette Blount for time at running back, if not have the two split snaps.
Sure, the Bucs have lightning-fast scatback Michael Smith on the roster, but he's just a change-of-pace kinda guy, right?
Well…
It seems Smith has other plans, so he told Scott Smith (?) of Buccaneers.com.
Smith would happily take every third-down snap the Buccaneers would like to give him this fall, after he takes care of the initial task of making the regular-season roster. Smith, in fact, will take on any task the team chooses to give him, from returning kickoffs to covering punts to running between the tackles. The point he is seeking to prove, the point that can get lost if you pigeonhole him as a 'third-down back,' is that he can do all those things. In the NFL. Right now.

"I can do that, I can do anything the team wants me to do," said Smith of the third-down role that conjures images of a Darren Sproles-like scatback with speed and good hands. "I'm here for the team. I'm trying to be a Buccaneer all the way. I'm 100 percent in, so whatever they expect me to do – kick return, punt return, special teams, anything – I'm out there just working hard and trying to participate in everything. I'm getting involved in everything they want me to do, full-speed."

Smith was out there on the field Thursday with the rest of the Buccaneers' rookies and first-year players, getting a week-long head start on training camp, which opens for the veterans next Thursday. But he wasn't alone. Two-thirds of Tampa Bay's six-person field of tailbacks heading into camp are rookies, including first-round pick Doug Martin. The other two are Mossis Madu, who has nine games of NFL experience, and incumbent starter LeGarrette Blount, who is going into just his third NFL season. The Buccaneers have reworked their backfield with youth and, they believe, talent, and there is going to be stiff competition for the football over the next six weeks. Blount and Martin are understandably considered the top candidates to get that ball, but Smith simply wants the chance to prove he belongs in the battle. On all downs, not just third.
That's the attitude Joe loves to read about: Just put me in, coach. If there is any player that may surprise Bucs fans, Joe believes it will be Smith.
Although Joe is quoting a baseball Hall of Famer, Joe loves the line former Cardinals manager Whitey Herzog used to spout when asked about seemingly loading his roster with track stars.
"Speed kills."
Smith has that.