"You're Seeing The 4.3 Speed"
June 1st, 2012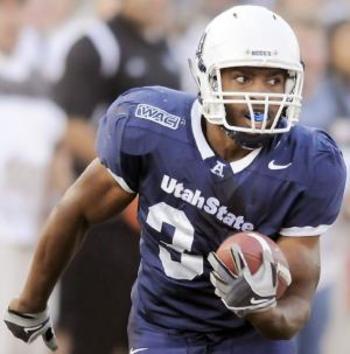 There's nothing wrong with a little excitement about a player in May, even if it is underwear football where there's little contact and running backs and other positions barely get a two-hand touch.
Count rockstar general manager Mark Dominik among those excited already about the performance of the 2012 Bucs draft class.
Speaking to Steve Duemig, of WDAE-AM 620 yesterday, Dominik said late-round picks have "really splashed" and include seventh-round scatback Michael Smith, the former No. 2 back at Utah State.
"We've been very excited about what Michael Smith has done with the ball in his hands. You're seeing the 4.3 speed on the field, when he gets the ball in his hands and just being able to accelerate and make big plays," Dominik said.
It's fun to think about Smith becoming an electric weapon in the Bucs' backfield, but Joe really can't get "excited." Not now. Not yet. Maybe after Smith stands out in a preseason game.
Kareem Huggins had that kind of speed and fans flocked to him as a potential savior. Joe simply will be impressed if Smith can make the Bucs roster and challenge for carries with the huge talents ahead of him on the depth chart.