Bucs Helped Change History With Barron Pick
June 1st, 2012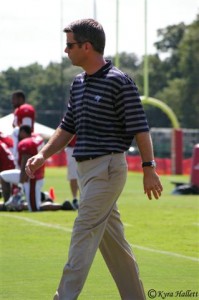 A handful of pundits thought the Bucs were nuts to grab a safety (Mark Barron) over a cornerback (Morris Claiborne) with the fifth-turned-seventh pick in the 2012 NFL Draft.
Taking a safety over a corner, these analysts claim, is like choosing a typical South Tampa cutie over Rachel Watson. A cornerback is always more valuable, they said.
Not so fast, says rockstar general manager Mark Dominik. Speaking to the dean of Tampa Bay sports radio yesterday, Steve Duemig of WDAE-AM 620, Dominik talked about how that logic doesn't fly in the modern NFL.
Mark Dominik: That's just one of those positions where historically you don't take a safety in the top-10 as much, but historically things are changing in the NFL.

Steve Duemig: Did Eric Berry change that?

Dominik: I think [Eric Berry] did. He helped it. Certainly, you know, Eric Berry came in, he went to the Pro Bowl his rookie year and really had a phenomenal first season. I think that's been a big step, along with what Sean Taylor had done in his early career.
That's quite a bit of pressure Dominik put on himself with Barron. Berry, drafted fifth overall in 2010, was an instant star. And Taylor, who burned the Bucs in the 2005 playoffs, was very successful as a rookie and made a Pro Bowl before he was killed during his fourth season in 2007.
Dominik also said he loves what he sees at One Buc Palace from Barron and the Bucs have a good shot "to really hit gold" with the rookie.
Joe's as hopeful as the next fan that Barron is the real deal. But the reality is that any guy taken that high in the draft has to be an impact player to not be considered a bust. Whether a safety or a cornerback, it makes no difference as long the player lives up to his billing.