The Sting Of 2011 Might Be A Good Thing
June 20th, 2012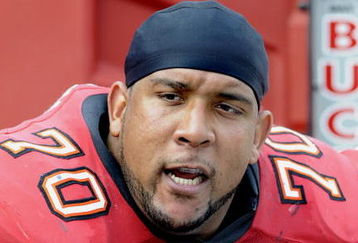 In Joe's naive perfect world, all women would be akin to Rachel Watson or Jaime Hanna and Joe would have to fight through swarms of said women begging for his attention, just to get to Publix for a chicken tender sub (#FGU).
This somewhat juvenile mindset extends to football a little as well. After a gut-wrenching, grotesque 10-game losing streak last year to end the season, Joe so wanted a Bucs player to go completely postal, tear apart the locker room and threaten to rip off someone's head for the schlap they called football last year.
But no, not all players are wired like that. Tanard Jackson had more important goals, such as left-handed cigarettes (allegedly). Kellen Winslow was more interested in having a good time at practice and spinning discs in Vegas to be bothered by wins.
But don't include Donald Penn in that group. While many of the pen and mic club focused on Penn catching a punt to end a three-day mandatory minicamp last week — and it was a funny moment — Joe zeroed in on a few of Penn's words buried in his audio recording of Penn's post-practice comments that struck a chord.
Penn is downright bitter over how last season ended. He noted that new Bucs coach Greg Schiano told the team the sooner it buys in and learns the new ways, the quicker the team will win. That's all Penn needed to hear, he said.
"Everybody is buying in, no one likes losing," Penn said. "Last year was tough. Losing that many games in a row at the end was tough, real tough. Nobody wants that feeling again.

"At least I don't."
This reflection was music to Joe's ears. That's what irked Joe so much about Winslow's tirade against Schiano and how Winslow quit on the Bucs — he admitted it in his own words last week.
In what fantasy world does Winslow live in that he expected no changes after such a horrible season? Joe's glad there are guys like Penn on the Bucs roster who have some pride and dignity about themselves and are disturbed about by being saddled with losing.