Raheem "Sees It As A Player"
June 10th, 2012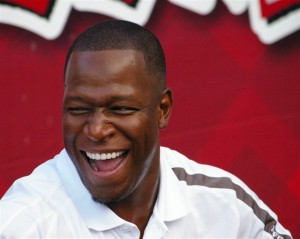 In case you've been wondering how Raheem Morris is faring in Washington, three-time Pro Bowl cornerback D'Angelo Hall has weighed in on his new position coach.
Hall likes the vibe, so he told John Keim, of CBSSports.com.
New secondary coach Raheem Morris already has impacted his players in their short time together. Morris, Tampa Bay's former coach, replaced Bob Slowik, who was moved to linebackers coach. CB DeAngelo Hall said Morris' techniques and suggestions have helped the corners as well as the nickel corners."I love coach Slow," Hall said, "but Slow say it as a football coach. Raheem sees it as a player."
It's interesting that Raheem's one-of-the-guys routine is inspiring a veteran entering his 10th season. Perhaps Raheem is a better fit for a team that isn't so yungry. He is, after all, one of the shiny apples on the Jon Gruden coaching tree.
Joe has no doubt Raheem will make a positive impact on the Redskins' secondary. Does that mean he's a good head coach? No. Though he's sure to get another shot in the coming years.