Can Jeremy Zuttah Get The Job Done?
June 9th, 2012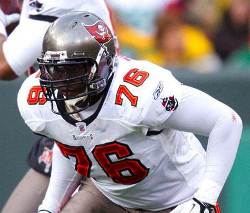 It didn't shock Joe at all that the Bucs let go of center Jeff Faine this offseason. Though he was able to show up for games in 2011, the two previous seasons he struggled to stay in the lineup due to injuries.
Faine, who pulled a pretty hefty salary, wasn't getting any younger (who the hell is?). Add up his age and his contract and his health, it was a logical move and even former Bucs defensive end Steve White smelled the transaction coming a year ago.
Despite the moves to wave goodbye to Faine and to sign bruising guard Carl Nicks, there are some doubters as to how Jeremy Zuttah, who was moved from left guard to center, can play the position.
New Bucs coach Greg Schiano, who Zuttah played for at Rutgers, has offered nothing but accolades about Zuttah, yet the Zuttah doubters still creep up from time to time, like in a recent ESPN NFC South chat.
Maen (Orlando): Hey Pat, two questions: I am hearing a lot of talk about how Jeremy Zutah may be a flexible OL but not a even a decent Center. Any truth to that?Are the Bucs looking to make any free agency pick ups, especially at DE?

Pat Yasinskas: I've seen some websites (including ours) where the scout types are skeptical of Zuttah. I don't claim to be a scout. But Bucs obviously are high on him and think he can be starting center. They paid him like one and cleared the opening for him. Schiano had him in college and knows him pretty well.
Well, Joe's not a scout either and Joe's comfortable with Zuttah at center.
Bucs fans all like to remember the near-playoff 2010 season. One reason why is that last season was akin to (Joe imagines) watching a Rosie O'Donnell sex tape it was so revolting.
People may forget that Faine went down with a season-ending injury and Zuttah took over at center, and the Bucs' offensive line significantly improved in the latter half of the season, partially because Zuttah was snapping the ball.
Until proven otherwise, Joe is not losing any sleep with Zuttah as the starting center.