Leaner, Meaner Donald Penn?
June 14th, 2012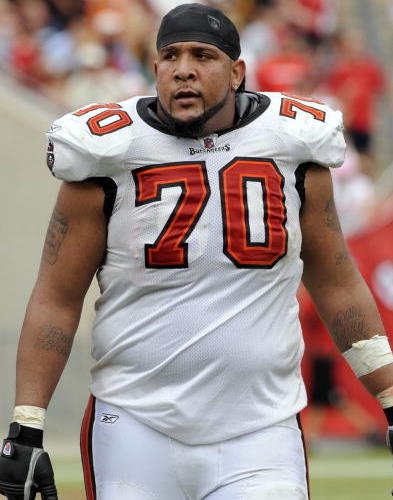 Joe's still amazed by how back in April many Bucs fans seemed willing to throw Donald Penn off the team in favor of future first-round pick Matt Kalil.
Penn has started 76 consecutive games, been a relatively consistent top performer, and he only turned 29 six weeks ago and was voted into the Top-100 of 2012 by his NFL brothers. But for some fans, Penn's weight and a few bad games last year were enough to toss him overboard. Thankfully, rockstar general manager Mark Dominik and Greg Schiano are of sound mind.
What should be interesting and exciting to all Bucs fans is the way Penn looks in this new Scott Smith video on Buccaneers.com. The video focuses on the offensive line, and there are two good looks of Penn at different angles, and he appears significantly leaner than in past seasons.
Of course, Penn could go on a canoli, pizza and beer spree in the six-week break before training camp, but Joe would be surprised if that happened. Davin Joseph told Joe yesterday about how the team's strength and conditioning standards were ramped up significantly under the New Schiano Order, and Schiano mentioned a fitness test that must be passed when players return in July.
While Schiano called the impending conditioning exam "fair," Joe suspects it's a bit more demanding than past years'. So look for Penn to maintain his leaner look for a while.