Vincent Jackson Likes Bucs' Direction
May 19th, 2012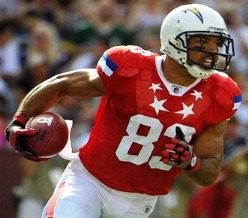 Whenever Joe thinks of the grotesque 10-game losing streak last season that resulted in the jettisoning of then-coach Raheem Morris, Joe usually has to gulp Mylanta.
Bad fundamentals, horrid tackling, matador rush defense, fumbles, interceptions… Joe doesn't know where to being — or end!
Now the little bit Joe has seen of the New Schiano Order, Joe has been impressed with the style of practices, attention to detail and stressing of fundamentals.
It seems wide receiver Vincent Jackson is impressed as well. The big fish of the Bucs free agent shopping this offseason took to Twitter and boasted about the team.
@VincentTJackson: What an amazing week at One Buc! We are steady [sic] becoming the team we want to be. Plenty of work to do, but this is gonna be a fun journey!
Now remember that Jackson comes from the Chargers where the team was expected to be in the playoffs and often went deep in the playoffs. So if Jackson likes the direction of the Bucs thus far — though it is still very, very early — this should be a good sign.
Certainly the Bucs receivers will get better with the addition of Jackson, that much one can pretty much take to the bank.