Times Shines Spotlight On Blount's Bad Grammar
May 18th, 2012
Newspapers constantly make calls on whether to quote a subject verbatim or to clean up grammar, as well as to pick and choose comments to make a story flow smoothly and keep it from becoming about somebody's communication skills.
It happens every day, especially with professional athletes and coaches.
Locally, the mainstream outlets did that routinely with Raheem Morris, the loquacious and vivacious former Bucs coach. But Joe typically quoted Raheem without cleanup because Joe had endless space on the Interwebs to celebrate a good Raheem ramble, plus Joe often found Raheem's unique style of communicating and bizarre storytelling and nicknames entertaining and wanted to share that with readers.
But Joe saw the cover of Wednesday's Tampa Bay Times sports section and felt the newspaper made a sinister choice to target LeGarrette Blount by highlighting his bad grammar in red in what's known as a pull quote. See below. (You can double-click the image to enlarge it.)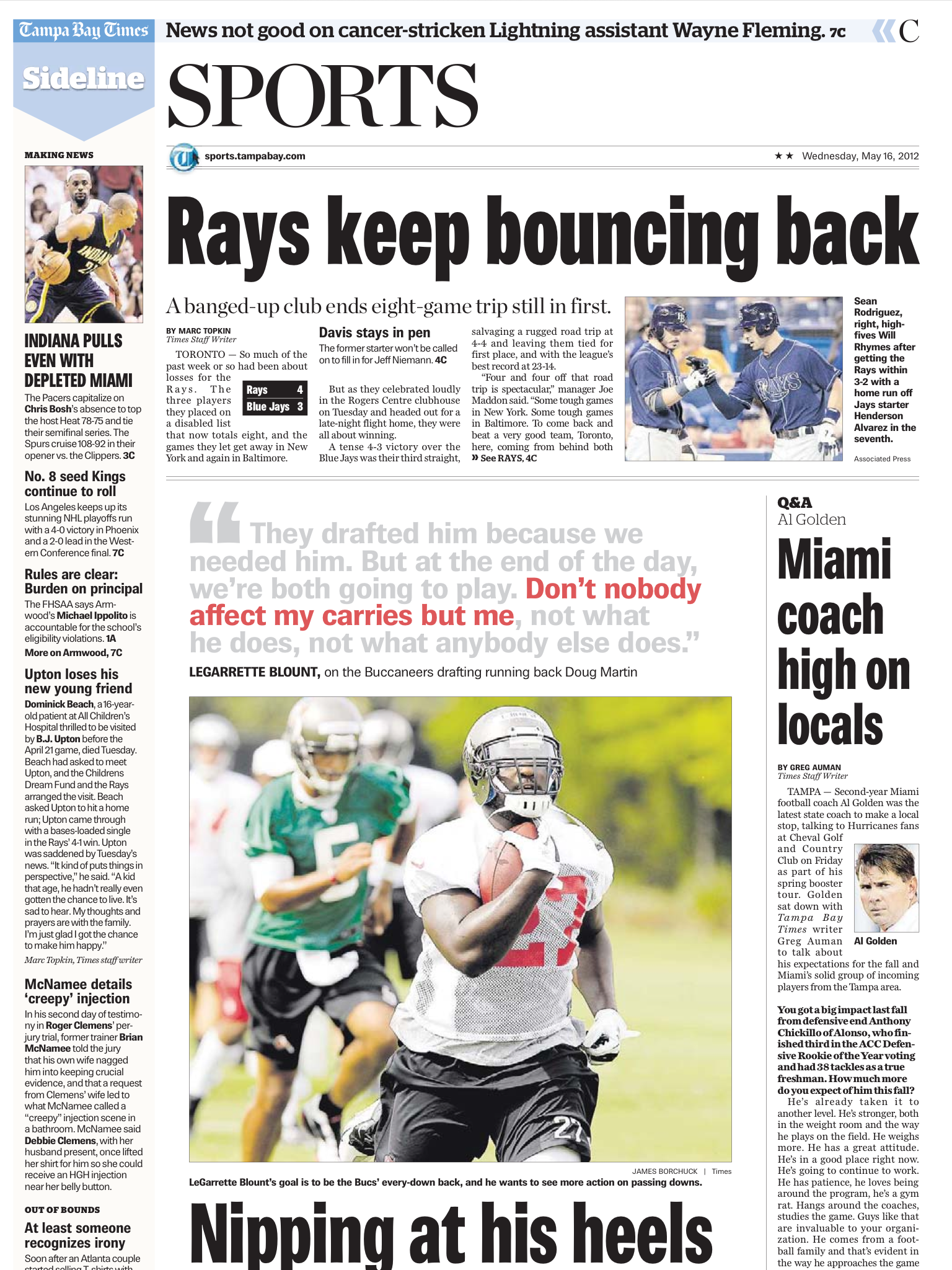 Don't get Joe wrong. Blount said what he said and there's nothing wrong with quoting him. But the bold highlight of the poor grammar here is a questionable choice considering Blount expressed the exact same words correctly in the part of the quote you don't see above. Here's what appeared in the actual story:
"I think nobody can affect my carries but me," Blount said. "They drafted him because we needed him. But at the end of the day, we're both going to play. Don't nobody affect my carries but me, not what he does, not what anybody else does, just how I practice and how fast I get the offense down pat and everything like that. That's the only thing that will affect my carries."
So essentially, the Times editors who designed and approved the sports page cover had three choices — take the quote from Blount that made sense, take the one that made him sound like an uneducated boob, or display both together as it was in the story.
The Times' call was to make Blount look like a boob.
Joe's readers can reach their own conclusions. But there's no denying that Blount is being repeatedly targeted by local and national media. This is the third incident this week. As Joe's written before, a sociology professor somewhere could put together quite a study of the negative media vibes around a young, productive and exciting player.
Joe openly wonders what Tampa Bay Times resident media ethicist and social activist Eric Deggans would have to say on this matter. Just a hunch, we will never know.