The Three-headed Monster
May 18th, 2012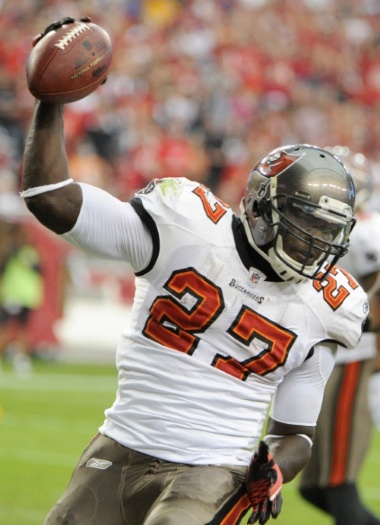 Joe has made no secret what he thinks of LeGarrette Blount, the Bucs' No. 1 back until dethroned. It just staggers Joe how not only this guy was misused (five carries in the season opener against Detroit — FIVE!) but how offensive assistants did their best to throw the guy under the bus in a desperate attempt to save their own hides.
Well, now the Bucs have a coaching staff that loves to pound the rock. And the Bucs added first round pick Doug Martin and scatback Michael Smith.
But with three guys who can run and, of course, egos involved, can Blount and Muscle Hamster coexist? That's the subject Paul Derrick of NationalFootballPost.com tackled this morning.
Blount has spoken publicly on how he has pushed himself this summer to be a better back and be capable of carrying a heavier load, but will that be enough? With Martin, Tampa Bay gets a running back with 4.5 speed who has drawn comparisons to Ravens running back Ray Rice.

Martin had nearly 1,900 all purpose yards during his senior year at Boise State and really fills all of the holes that Blount presents.

Blount is definitely a sock you in the mouth north/south style runner, but he can't carry the entire offensive load for Tampa Bay in 2012. The Bucs spent a first round pick on Martin for a reason, and it's something they won't let go to waste.
Joe never understood what all the fuss was when Blount said, in so many words, he is the No. 1 back until otherwise proven. What's he supposed to say? "I am horrible just like Greg Olson said when he planted all of these terrible things about me and I shouldn't even be on the roster."
Please!
Competition brings out the best in players. Look at what happened the last time Blount had competition: He blew up because he had to fight for playing time with Cadillac Williams on the roster.
Now Joe loves Muscle Hamster and hope he runs for 1,500 yards but let's be honest here. Muscle Hamster has not carried the ball once in the heat of anger on the NFL level. Nor has Smith.
If all three of these guys are productive, Joe sees good things happening for the Bucs.