The Power Of Pasta
May 29th, 2012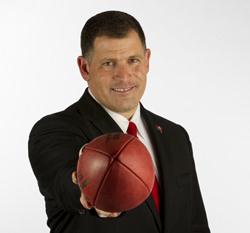 Wow, not sure if anyone besides Joe got a chance to read cricket-watching, scone-loathing Peter King's must-read "Monday Morning Quarterback" column over the holiday weekend, but, um, somebody sure needs a vacation.
A number of things jumped out at Joe while reading King's latest piece. First was King's Grandpa Simpson-like tirade over NFL fans who fork over hundreds if not thousands of dollars a year to attend NFL games.
Miami Dolphins owner Stephen Ross is trying to get the NFL to approve a small DirecTV-like personal device for use to all season ticket holders in the NFL so that during breaks in play, fans can watch NFL Sunday Ticket or NFL Red Zone channel.
This seemed to appall King, who believes America is too distracted of a nation and that the peasants that attend games should sit in their seats and be content with the scant scores and highlights offered during games, and fans should leave their smart phones at home for the dog to chew on.
Mind you that while fans sweat/shiver at NFL games, King is basking in the warmth of the lavish NBC studios in New York City where every game is displayed on a wall of HDTVs. Plus King gets to nibble on a generous spread of munchies provided by the network (though not likely containing doughy scones or salty oatmeal).
But this wasn't the lone item that King was irritated by this week. It seems new Bucs coach Greg Schiano is another irritant for King, before he has coached a single game for the Bucs.
Last week King mocked Schiano and called him a "control freak" for demanding meeting rooms be a specific room temperature. Now it seems King is bothered by Schiano's choice of pasta.
I mentioned the other day on SI.com that Greg Schiano was a — shall we say — quirky and very particular head coach at Rutgers, and that during team meetings at road hotels, the temperature in the meeting rooms had to be at a precise number.

Come to find out now that once, at a Scarlet Knights team dinner, the food service people got upbraided by a Rutgers staffer because the pasta being served was the wrong noodle.
God forbid Schiano order rotoni pasta and have penne pasta delivered instead, much to his dismay. Sure sign of a control freak!
How often has King lambasted Amtrak officials in his column for the swill disguised as coffee they serve on trips between Boston and Washington? That doesn't make King a lunatic, does it? No, certainly not.
Joe's of the mind that a little attention to detail at One Buc Palace is or at least should be a welcome addition, including the pasta. Al dente, of course.