The Hidden Reason For Kellen Winslow's Exit
May 22nd, 2012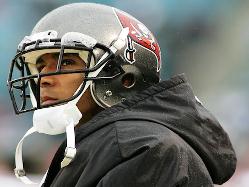 Pretty big news day yesterday for Bucs fans, and for Joe. Kellen Winslow announced in the morning his days with the Bucs were done and, just as hottie anchor Heather Van Nest was saying goodnight to viewers as the 11 p.m. WTSP-TV newscast signed off, Winslow was traded to Seattle.
Lots of commenters on this site cited all sorts of reasons for Winslow's sudden departure, from his seemingly indifferent attitude about offseason team workouts to his run-ins with fans during games, to his past as a "soldier" and his salary were cited.
But here's another element that may have played a major factor. First, some background.
Earlier this offseason, former Giants wide receiver Amani Toomer, now a fill-in host on SiriusXM NFL Radio, spoke about the development of quarterback Eli Manning. One of Manning and Toomer's offensive teammates was tight end Jeremy Shockey. The former Canes star and college teammate of Winslow took advantage of Manning during the Giants quarterback's first few years in the league, so Toomer detailed, bullying him after virtually every play in the huddle.
Toomer spoke how Shockey constantly demanded Manning get him the ball. Shockey, naturally, was open on each play, so he told Manning, game after game, week after week.
In short, Shockey was in Manning's head, and it greatly affected his play. It wasn't until late in the 2007 season, Toomer said, that Manning began to turn the corner, becoming one of the NFL's better signal-callers. No small reason, said Toomer, was Shockey was on the sidelines with a broken leg.
The Giants parted ways with Shockey after Manning led the Giants to an improbably postseason run, capped by an upset win over the then-undefeated Patriots in the Super Bowl.
With Shockey no longer intimidating Manning, Toomer said, Manning become one of the game's elite quarterbacks. Toomer had stated that had Shockey stayed with the Giants, Toomer was certain Manning would have eventually melted down mentally.
Who was the Giants wide receiver coach during this period? Mike Sullivan, the Bucs current offensive coordinator.
Fast forward to 2011, specifically a mind-numbing awful Bucs season. How many times, in how many games, did we see Bucs quarterback Josh Freeman force passes to Winslow? Did a game go by that Freeman didn't try to force a pass to Winslow when he was blanketed by an opposing defender, if not two, sometimes even three?
Then there was the ugly spat on the sidelines, caught by FOX TV cameras during the home game against the Saints, of Freeman and Winslow jawing at one another.
While no one at One Buc Palace has spoken about this in public, Joe's of the belief that, like Shockey did with Manning, Winslow was in Freeman's head last season, thus, was stunting Freeman's development.
Hence, the departure of Winslow. Don't dismiss the very real possibility that Sullivan didn't want to deal with a repeat of what he had to tolerate in New York, with a star tight end bullying a promising young quarterback.
As the Bucs are wont to say, "It's all about No. 5."