Talib Might Be Immune To Goodell's Wrath
May 4th, 2012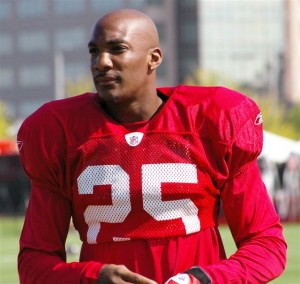 An intriguing nugget has emerged from the NFL Players Association grievance filings in protest of Roger Goodell's punishment of Saints players involved in the BountyGate scandal.
Creator, curator and guru of ProFootballTalk.com, Mike Florio, has obtained copies of the grievances and says the labor union is claiming the NFL agreed to not punish players for actions prior to August 2011, therefore Saints players should have amnesty.
Whoa! Aqib Talib's alleged Wild West gunslinging antics in Texas occured more than one year ago. So is he immune from Goodell's wrath?
In one grievance, filed under Article 43 of the labor deal, the union initially argues that Goodell lacks the authority to discipline players for conduct occurring before August 4, 2011, the date on which the current CBA was finalized.  The grievance cites language releasing all players from conduct in which the players engaged before August 4, 2011
Essentially, the NFLPA is trying to take punitive power away from Goodell in BountyGate.
There's possibly lots of gray area here. But one has to think Talib might very well be off the league's radar as it relates to punishment for his Texas acts.
There's always a chance, though, that Talib could say something at trial, or as part of a plea agreement, that could lead Goodell to suspend him.