Programming Note
May 3rd, 2012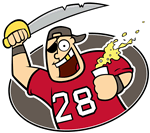 Joe's got another post coming tonight, but this is just a heads up that Bucs rookie minicamp runs Friday through Sunday and Joe expects to be there and bringing you whatever is interesting. So come back early and often over the next few days.
Also, it's a big weekend over at Derby Lane on Gandy Boulevard in St. Petersburg. Advance wagering on the Kentucky Derby starts Friday morning at 10 a.m. Joe finds the race a lot more enjoyable when he has a few bucks on it. There's also a full slate of live greyhound racing at Derby Lane on Friday and Saturday.
And mark your calendars for a great Saturday night — Cinco de Mayo — at Besa Grill in Clearwater. You will not be disappointed. … Or just hop on the No Excuses Tour to the Trop and relax.