Kellen Winslow Not Practicing Was Not Good
May 21st, 2012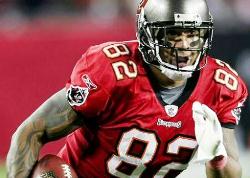 Earlier today after Kellen Winslow broke the news of his demise with the Bucs on SiriusXM NFL Radio, station co-hosts of "The Blitz," Adam Schein and Rich Gannon, discussed the move by Bucs coach Greg Schiano.
Gannon, as part of his duties as a game analyst for CBS Sports, got to watch Bucs  practices up close and personal and previously has made no secret he was appalled by how loose, slacking and undisciplined Bucs practices were, so he repeated today.
"Guys were sitting on their helmets!" Gannon gasped. It was practices, or lack of them, that Gannon believed led in part to Schiano washing his hands of Winslow.
Because of Winslow's gimpy knees, then-coach Raheem Morris often gave Winslow practices off. Part of the rationale for this was that due to the wear and tear of an NFL season, Winslow wouldn't have been able to finish a season on his knees without regular rest.
This, Gannon believes, did more harm than good and actually set a bad example. Gannon wondered aloud how a player could be expected to be sharp and focused for a game when said player regularly sat out practices.
This premise was reinforced in the ugliest of ugly Bucs games last year when, to wrap up the season in Week 17, there was a pass play where Winslow blew up teammate Kregg Lumpkin coming out of the backfield because Winslow missed an assignment and ran a wrong pass route.
Joe wondered at the time how in the world a starting player could run a wrong pass route in the last game of the season? To believe Gannon, lax practices or players not practicing at all was the root of the Bucs evil.
It was also a priorty for Schiano to clean up such a mess. When Winslow was spotted spinning discs in Vegas but somehow couldn't find the time a few days later to attend an OTA session (yet Brian Price, with a death in the family, found a way to be here), that was likely the last straw for Schiano.
In this New Schiano Order, it is clear: If you are not with the team, then you won't be on the team.
Joe hopes Dezmon Briscoe understands this. Quickly.