Evaluating The Winslow Acquisition
May 21st, 2012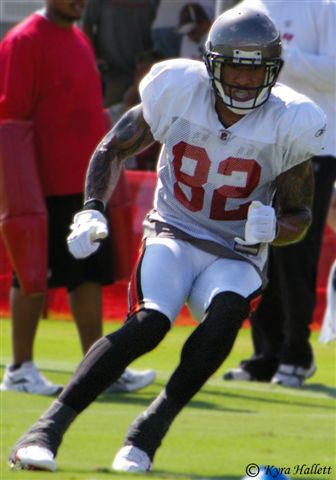 What do Mohammed Massaquoi, Andy Levitre, David Veikune, LeSean McCoy, Phil Loadholt, William Moore, Fili Moala, Paul Kruger, Sebastian Vollmer, Sherrod Martin, William Beatty, Sean Smith, Sen'Derrick Marks, Cody Brown and Richard Quinn have in common?
All were drafted in the second round of the 2009 NFL Draft, and they all could have been taken with the Bucs' 50th overall pick that was traded to the Browns for Kellen Winslow, who is no longer wanted at One Buc Palace.
So did rockstar general manager Mark Dominik screwup the trade that brought in Winslow?
Hindsight is so easy. A Bucs fan could look at LeSean McCoy's name on this list and bang his head against the wall repeatedly.
However, the Bucs needed Winslow when they got him and he produced for three years straight and didn't miss a game. Joe and any sane Bucs fan can make a good case that a reliable target like the Winslow of 2009 and 2010 absolutely was critical to Josh Freeman's development. That same development Bucs fans are banking on in 2012.
Winslow was the go-to guy for Freeman in those two seasons, when Freeman had a winning record as a starter and emerged as the face of the franchise. Freeman isn't the player he is today without Winslow's influence.
But no one will find Joe standing on a rooftop praising Dominik for the Winslow deal. Back in pre-Winslow 2009, Joe pounded the drum repeatedly for the Bucs to trade for Tony Gonzalez for a second around pick, who the Falcons eventually snagged via trade with the Chiefs with that same second-round pick. Gonzalez has been flat out more productive than Winslow and is still going strong for Atlanta.
How will history evaluate the Winslow acquisition — and today's news of his local demise? That's to be determined.
But at this point Joe can't call Winslow's Tampa Bay history unsuccessful.