Is Da'Quan Bowers "Injury Prone?"
May 12th, 2012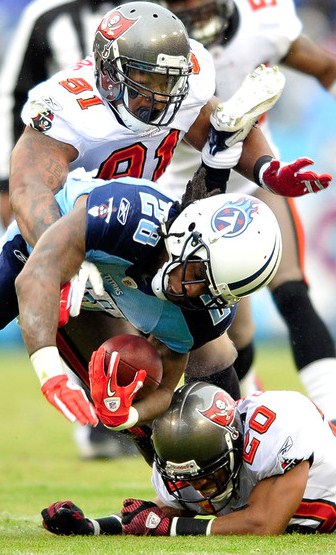 Shoot, the Bucs hadn't even had an OTA post NFL draft and already the team took a nasty loss when second-year defensive tackle Da'Quan Bowers tore an Achilles tendon working out at One Buc Palace and is likely lost for the season.
The subject of Bowers came up with "The Godfather," Gil Brandt, Friday night on SiriusXM NFL Radio. Brandt, the architect of the Cowboys for three decades, drafting players from Bob Lilly to Michael Irvin, thought Bowers is a talented player but hinted he may never realize his ability. Brandt stopped just short of calling Bowers "injury prone."
"Bowers has had the worst luck," Brandt said. "When he was a junior he had about as good of a year at Clemson that a player could have and then he suffered a knee injury in a bowl game and he tried to come back too soon. He wasn't quite the same. Now he has a torn Achilles.

"Some players just seem to be injury prone and there is really no rhyme or reason for it."
This really depressed Joe to hear because there simply are too many key Bucs defensive players that always seem to be losing playing time with injuries. Joe can count four projected starters that are always hobbled or out for the season.
For the Bucs to do anything on defense, these players must remain healthy so they can stay on the field.