Crowder "Very High On The List"
May 13th, 2012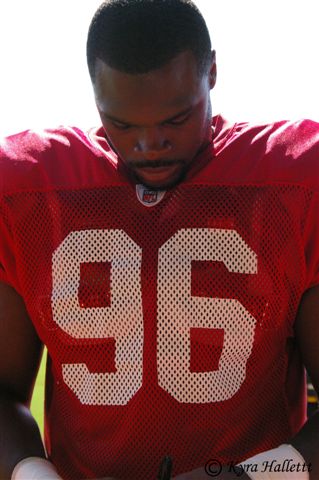 Joe definitely was a fan of "The King of Hustle," but when he was cut from the Bucs in March, Joe figured The King of Hustle was about as far off the Bucs' radar as a player could be.
(For those confused and/or link-challenged, The King of Hustle is Tim Crowder, who caught the nickname from Raheem Morris in 2010.)
When you're a defensive end, a premium position, and you get the boot in March, that's quite a strong signal that your team has no use for you. But hold on, says Tampa Bay Times Bucs beat writer Stephen Holder.
The Bucs now need serious help at defensive end and, according to Holder, Crowder is likely "very high on that list" of potential DE signings for rockstar general manager Mark Dominik and company. Speaking to Tom Krasniqi of WHBO-AM 1040 last week, Holder claimed teams like the Bucs prefer a familiar face when they're looking to fill roster spots, so Crowder might be the top choice to replace injured Da'Quan Bowers on the depth chart.
Now Joe finds this a somewhat ridiculous premise that Crowder is on the Bucs' radar. The guy had a sackless season in 10 games last year before going on injured reserve for a concussion. He was cut by the New Schiano World Order seven weeks ago and remains unemployed.
While Crowder has 10.5 career sacks and was known around here as a high-motor guy and a good special teams player, the Bucs need more than just a serviceable body to replace Bowers.
Joe still feels the pain of the Bucs finishing the 2011 season with only 23 sacks — dead last in the NFL. Joe prefers the Bucs go after one of the older veteran defensive ends on the market, or sit back ready to pounce on the one or two talents that will hit the waiver wire this summer.