Greg Schiano Not Wed To 90-Man Roster
May 5th, 2012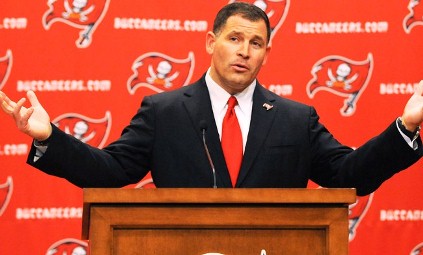 Earlier when the NFL announced rosters could go up to 90 players for the offseason, it seemed every team would try to take advantage of the boost from 80.
Sure, Bucs coach Greg Schiano wants to have as many players as he can as well. But as he remarked after rookie mini-camp practice this afternoon, just because the league has a roster max of 90 doesn't mean the Bucs will have a roster of 90 players after rookie mini-camp finishes Sunday.
"We are allowed to have 90," Schiano said. "We may mix in [players] already established [on the roster]. I don't know what that number will be. It will be as many guys as we think can help us win.

"If we don't fill the 90, that's OK, too. It's a continual process. We continue to bring guys in all the time, too."
Joe has a hard time believing the Bucs won't keep 90. As Schiano pointed out yesterday, he has brought in a lot of Big East players, partially because they know him maybe better than he knows them. Why not keep those guys around, if nothing else as a favor, so they can continue to work out with the Bucs?
Maybe one of them might blow up in OTAs enough to keep him around for training camp, or beyond?