Donald Penn Talks Bucs, Josh Freeman
May 23rd, 2012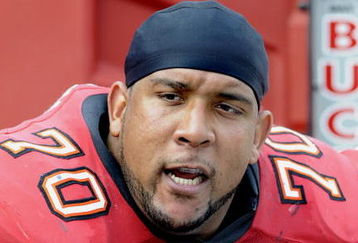 Cool cat Donald Penn took a moment after OTA practice yesterday to talk to a gaggle of local pen and mic club members to discuss the Bucs, what he learned from the grotesque 10-game losing streak last season, and how Josh Freeman is handling a new offense with a new coaching staff.
On the collateral damage of the 10-game losing streak that resulted in Raheem Morris being jettisoned by the Bucs.
You have to move on, man. It's your job. If there is one thing about Raheem Morris is that he taught me is that you have to understand there is a business side to everything. You have to look at it like that. It's a business side. You have to move on. We are out here. We have great attendance. Guys are buying in. It's looking up. I'm looking forward to the season.
Can he sense a change in the air among local Bucs fans with the New Schiano Order?
I think so. When I see people out it's not like last year when they saw you and they looked down. Now they are chatting with me. So I think [excitement] is coming.
What are some differences with Schiano?
You will see when we converse on the field. I don't want to give up any inside stuff about what he is doing. He is holding everybody accountable and himself accountable as much as he is holding the person next to himself accountable. That is one thing we are trying to do across the board: Everybody is accountable. No sugarcoating anything, no hiding anything. He wants everything up front. That's the way I try to live. I try to treat people the way they want to be treated and that is what he is giving back to these young guys. Don't half-ass something if you don't want the other guy doing it half-assed. You have to be on top of your game and the other guy you have to make sure is on top of his game too. With a young team, that is something you need.
How is Josh Freeman adapting to the coaches?
I was in his ear today telling him, "You know you are still my favorite quarterback?" He is getting better. You have to understand, Josh has so much on his plate right now. He is learning so much; he is getting so much thrown at him. Out there on the offensive line, we are making the calls and trying to make his job easier. He has so much upon him right now — he is grasping it, he is doing a good job. Sometimes we have to tell him to calm down because he is getting overwhelmed because he wants everything to be perfect. But right now we are learning things, we are fixing things. Not everything is going to be perfect but he wants it to be perfect. We tell him, "Josh, slow down, we've got time, but we like the way you are working."
Schiano has pulled him aside a couple of times, "Keep working hard, keep doing what you are doing but don't get frustrated." They are throwing a lot at him; they are throwing a lot at us.
We have to learn from last year. I don't want that feeling again and none of the other guys want that. Josh handled it well. That's what he needs to do. That makes him mature and makes him a better player and a better leader.