Dominik Won't Rule Out Bowers In 2012
May 15th, 2012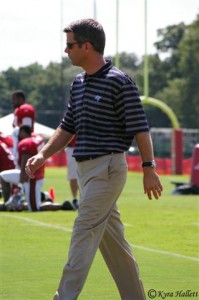 Rockstar general manager Mark Dominik just spoke with Joe and other media types at One Buc Palace and made it clear he isn't yet counting out a DaQuan Bowers return during the 2012 season.
Bowers, for those out of the loop, blew out his Achilles and had surgery last week.
Dominik said the Bucs will assess the early stages of Bowers' rehabilitation and craft their judgments later. "We'll see," the rockstar said.
Joe still can't see a reason to play Bowers in 2012. A six-month recovery would be near miraculous, and that puts Bowers into mid-November. It just doesn't seem to be worth the risk for a guy that won't be coming back at 100 percent.
Update: At his late-morning news conference, Greg Schiano called Bowers "a great loss."